It dawned on me that I often make monochrome versions of my waterfall photographs.
And then I realised just how many I have shot in Assynt alone.
It helps that I live there, so they're my "local" falls; in fact one of them is only about a quarter of a mile away and I can see it out of the window of my house!
I never feel particularly bound by names or terminology, but it did seem obvious to assemble a collection and see what I'd got.
Quite a few apparently!
Although I can think of at least two people who I know will have visited more than me; maybe I'll catch up one day.
Thinking about the concept, I realised that there was one glaring omission: Eas a' Chual Aluinn, the highest waterfall in Britain. I had visited a couple of times, but only the top, and the view is very poor, almost non-existent from the top.
So after a period of rain to top up the water levels, I set off with Richard, Suse and Molly (the dog) to get some photos from the bottom. The forecast was dry that day, which didn't really account for about three hours rain that we had to put up with whilst walking in. I should've realised there and then that it was an omen. But I didn't.
Three of us plus the dog actually had a lovely day walking to the bottom of a tremendous, awe-inspiring waterfall, not realising that it wasn't actually in Assynt at all. No. Its about half a mile (or less) the wrong side of the parish boundary. Hmmmm….
No regrets; we needed to visit, and it was fabulous.
It doesn't look too difficult to get to the bottom of Eas a' Chual Aluinn, navigating with a map, down a gentle slope to the south east of the falls. The total vertical drop is about 200 metres, so if you visit, be sure to find a nice gentle slope!
And the ground is very rough, so take your time.
The round trip for us was eight hours (including stops).
So there's one school-boy error, and I think I ought to expand on another point before I trip over that too: "waterfall".
The definition of a "waterfall" isn't completely agreed. Apparently not.
And I'm going to ignore it anyway. Some of these photos probably count as "rapids" or "cascades", or "something else entirely", but I don't particularly care.
It's taken me at least five years to visit all these, but they're certainly not the only reason for a walk with a camera; I wasn't in a hurry.
Some of them are well know and regularly visited, being close to a road; and some of them require sandwiches, outdoor gear and the ability to navigate. And for those, it can take a whole day to make just one photograph.
Access is sometimes easy. Sometimes not: beware rough terrain, wet slippy rocks, wet slippy vegetation, and these may also be associated with steep or even precipitous drops. Just saying.
I have used a variety of equipment, cameras being Nikon D750, Nikon D5500, Sony A7iii and Sony Rx100Mk7. The first three have interchangeable lenses, and I would have chosen one for the walk that day. These lenses can take extra filters, so for the "smooth water" effect, I would have used a grey filter to reduce the light and create a "long exposure" (tripod necessary). Lots of cameras are capable of taking these photos, so the main thing necessary is deploying the feet to get there in the first place!
Clashnessie Falls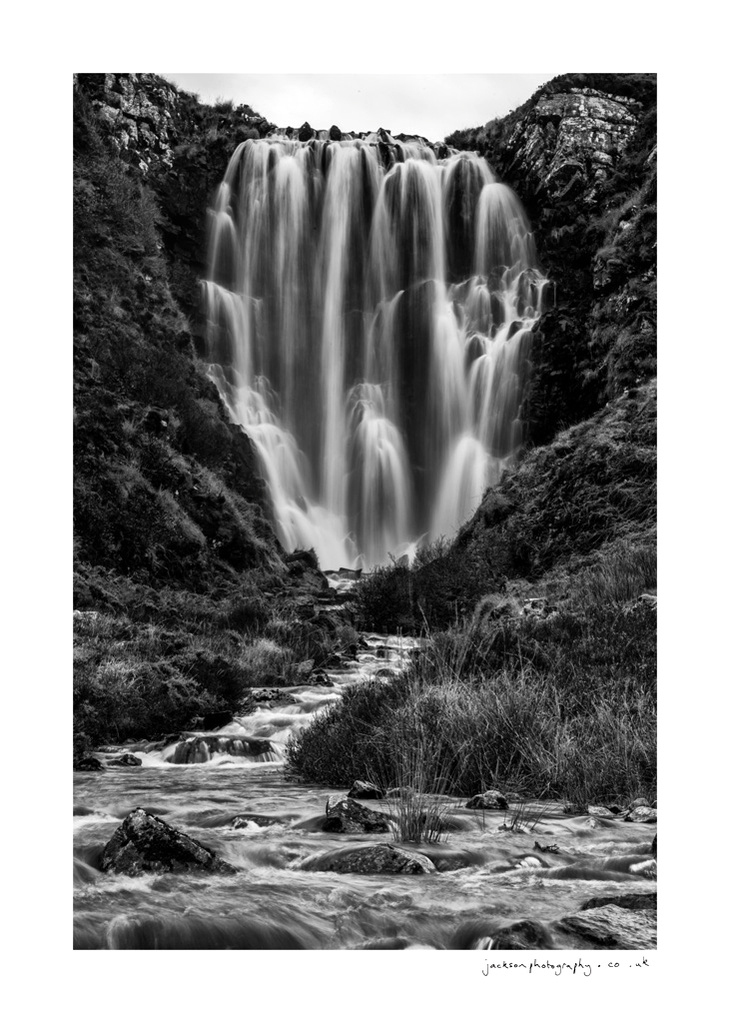 A northerly gale ripping water from the top of the falls and sending it back where it came from
An odd vortex of wind created this barrier of spray
Cold weather causing spray to freeze on the bushes
Even colder; almost frozen solid
Camera in a box to protect it from heavy rain, which is landing on the glass pane in front of the lens
Inverkirkaig (Kirkaig) Falls
Some icicles around the sides of these two shots
A particular heavy flow captured with a very long exposure
Wailing Widow Falls, probably could be called something like Eas na Loch na Gainmhich, Sandy Loch Falls
From the top, with a view across Sandy Loch to Glas Bheinn
Half way
Frozen; from the top
Frozen; from the bottom
Eas na Saighe Caime, near Inchnadamph
Eas na Saighe Caime, near Inchnadamph
Allt a' Chalda Mor, near Inchnadamph
Allt a' Chalda Mor, near Inchnadamph
Allt a' Chalda Mor, near Inchnadamph
Abhainn na Clach Airigh
Allt an Tiaghaich
Allt nan Uamh, Bone Caves valley
Allt nan Uamh, Bone Caves valley
Quinag Estate (10 photographs)
Allt Sgiathaig
(North side, no name known)
(East side, no name known)
Allt na Bradhan
Allt a' Bhathaich
Allt a' Bhathaich
Allt a' Ghamhna
Allt a' Ghamhna
Allt na Saobhaidh Moire
Allt na Saobhaidh Moire
And finally, the imposter, Eas a' Chual Aluinn; I couldn't not include it now, could I?